GENERAL INFORMATION
LOCATION
ECCO VIII will be held at ON PAN (Osrodek Nauki Polskiej Akademii Nauk) - Centre of the Polish Academy of Sciences, located in the heart of the town, at 17/19, Wieniawskiego St.
Cellular telephone during the Conference: +48 (90) 60 34 64
Fax during the Conference +48 (90) 60 34 64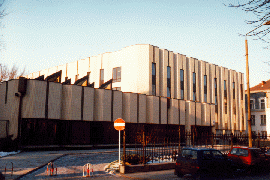 ON PAN
REGISTRATION AND INFORMATION DESK
The registration and information desk will be open at ON PAN on Sunday (May 7) from 5 p.m. to 8 p.m. and from Monday (May 8), 8.30 a.m. throughout the conference. Participants are urged to register before Monday (May 8), noon. There is no conference fee.
ABSTRACTS
The abstract books will be as usually handed to the participants on the day of venue.
VISUAL AIDS
Overhead projectors and 35mm slides projectors will be available.
ACCOMMODATION
There is a limited number guest rooms in:
ON PAN

(tel. +48(61)516 841, fax +48(61)520 671)

single room $20, double room $30, apartment $40

Hotels located in 300 m walking distance from ON PAN:
Merkury ***

(20, Roosevelta St., tel. +48(61)558 000, fax +48(61) 558 995)

single room $43, double room $76

Polonez ***

(36, Al. Niepodleglosci, tel. +48(61)699 141, fax +48(61)523 762)

single room $45, double room $76, apartment $160

Lech **

(74, Sw. Marcin St., tel +48(61)530 151 or 530 879, fax +48(61)530 880)

single room $26, double room $42.
COFFEE BREAKS
Coffee, tea, soft drinks and biscuits will be served in the hall of ON PAN during breaks.
LUNCH ARRANGEMENTS
Special lunches have been reserved at the ON PAN restaurant payable on-site in cash in Polish currency. Vouchers for lunches must be ordered in advance.
CURRENCY & EXCHANGE
All payments should be done in Polish currency - zloty (1 USD = 2.40 new zl, 1 DM = 1.65 new zl). There are numerous exchange offices in Poznan. It is advisable to exchange money just after the arrival at the airport or at the Main Railway Station - Poznan Glowny, main hall (open 24 hours). There are exchange boxes in hotels, except ON PAN.
Mind, that there are two currency units in Poland now. New Polish zloty (PZN) = 10000 old Polish zloty (PZL).
We would like to warn you that 8th of May 1995 is a public holiday and most of the shops and offices will be closed.
SOCIAL EVENTS
All conference participants and their accompanying persons are cordially invited to the social events being the part of the conference:
conference dinner which will be held in the ON PAN restaurant on Monday (May 8) evening,
excursion to the surroundings of Poznan on Tuesday (May 9) afternoon,
musical evening on Wednesday (May 10).
Vouchers for the above social events should be ordered in advance.
ABOUT THE CITY
Poznan... The cradle of Poland, the seat of first kings, bridge between East and West, South and North throughout the centuries, the biggest Polish commercial city nowadays, place of the most important fairs and exhibitions. Fires, floods, decease and wars have often been its fate; but after all Poznan has retained its former character and some of the ancient monuments. The magnificent renaissance Town Hall is the finest example. Poznan has the population of over 600 thousand and is one of the main cultural and scientific centres of Poland with almost 40 thousand students in 11 university-level schools. Worth mentioning is, that food and drinks are not bad there....
TRAVELLING TO POZNAN
Poznan is located halfway between Warsaw and Berlin. It can be reached easily:

by air
Warsaw - Poznan - Warsaw (1 hour flight each direction)
departure from Warsaw: 22.00 (daily), 15.55 (Mon - Fri),
departure from Poznan: 06.05 (daily), 19.05 (Mon - Fri)
Dusseldorf - Poznan - Dusseldorf (Sunday, Tuesday, Thursday)
departure from Dusseldorf : 16.50, arrival to Poznan:18.45,
departure from Poznan: 13.55, arrival to Dusseldorf : 16.00

At Poznan Airport take the bus no 78 to the centre of the town (Most Teatralny).

by rail
Warsaw - Poznan (3 hours journey), departures: 6.15, 6.30, 9.30, 11.30, 13.40, 15.30 (except Sat.), 16.50, 17.30, 19.25
Berlin - Poznan (3 hours journey), departures: 8.10, 16.32
Poznan - Warsaw (3 hours journey), departures: 6.22 (except Sun.), 6.30, 7.08, 10.07, 11.12, 15.03, 17.18 18.20, 19.31
Poznan - Berlin (3 hours journey), departures: 9.18, 19.53

by car
From Warsaw and Berlin via route A2 (the distance ca 300km, travelling time approx. 3.5 h)
CONFERENCE SECRETARIAT
Ewa Lukasik
ECCO VIII
Instytut Informatyki, Politechnika Poznanska
ul. Piotrowo 3a, 60-965 Poznan, Poland
tel. +48 (61) 790 790, fax +48(61) 771 525
e-mail: ecco@pozn1v.tup.edu.pl
---
MM - Apr 27, 1995